Our Team
Paul Enix, Owner
Paul Enix is a hands-on owner and is responsible for maintaining the ongoing business of Enix Mechanical, including directing construction, estimation and sales, overseeing project managers, purchasing, and field needs. Mr. Enix is also responsible for HVAC design and our design/build services.
Mr. Enix maintains industry-wide contacts, and interfaces with builders, contractor, developers, engineers, architects, and local and national building officials to ensure that company business practices, policies, and procedures are in compliance with Enix Mechanical Quality Assurance Programs.
Mr. Enix has also been an integral part in starting a new state-accredited Sheet Metal Apprenticeship Program through the local Nevada ABC offices.
Prior to opening Enix Mechanical, Paul had held the position of VP of Interstate Plumbing & Air, Inc. in Las Vegas. Paul's responsibilities over his 14 years with Interstate included managing the HVAC division and being an integral part in the company's growth through sales and design build services, which exceeded $100,000,000 in annual sales.
He also held the position of General Manager of Sunrise Mechanical in Las Vegas. Prior to arriving in Las Vegas, Paul spent years mastering his trade in Southern California.
Education:
Mira Costa Jr. College
Palomar Jr. College
University of Hawaii
---
Al Vachon, Partner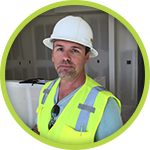 Prior to becoming a partner at Enix Mechanical, Mr. Vachon held positions of field foreman through HVAC Division Manager, overseeing over 100 people and millions of dollars of contracts for one of the largest HVAC & plumbing firms in Nevada.
This expert experience, with more than 20 years in the industry, enables Al to manage all of our field operations including labor and project coordination, as well as direct interaction with all of our clients, our project managers, and our job site superintendents. This hands-on approach only enhances our relationships with our clients.
---
Lorrie Edelblute
Lorrie Edelblute has worked in the accounting industry for more than 30 years. Lorrie holds a degree in accounting and runs a successful public accounting firm. As acting CFO, Lorrie puts her knowledge and experience to work overseeing the accounting and tax and business planning for the Enix group.
Education:
---
Scot Petroff
Scot has worked in the HVAC industry for more than 14 years for both large multimillion dollar companies, as well as smaller firms, before coming on board with Enix Mechanical. Scot held positions as a Project Manager, a Service Manager, and an Office Manager, giving him a unique ability to oversee our Project Management Department as Enix Mechanical's Senior Project Manager.
---
Noveal Antee
Noveal has more than 20 years of experience in the HVAC industry, and is one of the most knowledgeable custom home gurus in Las Vegas. He will assist you every step of the way from pre-design and budgeting to providing full design build plans for you custom homes or tract work. He is also our tract & custom home estimator and project manager.
---
Nikki Canfield
Nikki has worked her way up through our industry, starting before she graduated school working part time with one of the largest heating & air conditioning firms in Las Vegas, not knowing she would find her calling and future career in the HVAC business. Over the years and with hard work, Nikki has become one of the best Multi-Family Project Managers in the state, and we are proud to have her working and managing our multi-family projects.